The George and Helen Sampson Legacy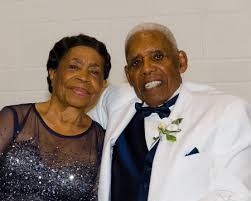 Helen and George Sampson
George and Helen Sampson, a couple of humble beginnings, have been in a loving relationship for more than 70 years and together raised 12 children.
All 12 children are the sole off spring of George and Helen and all have received secondary degrees.  Four of the children have Medical Degrees and two hold PhD Degrees for a total of six Doctors in the family.  None of it would have been possible without our faith, hard work and a good education.
All of 12 children have experienced success in their selected field of work and are committed to service to their community.  All 12 children attended Pine Four Academy.
While the family has always supported education domestically in 2009 the family traveled to Mozambique to build a school. This trip sparked a flame for a more unified collective effort of philanthropy.
In addition to having more than 30 family members attend and graduate from Pine Forge Academy, the Sampson family has supported Christian education through philanthropy and service for over 50 years.  Currently they are supporting the efforts of the school to build the Paul R. Jones Student Center.  The Sampson Family's significant $500,000 pledge will advance cultural expression through the arts along with unique opportunities to further understanding in the community and throughout the nation.
The magnificent venue is a place where students with a passion for the arts can be inspired in a beautiful hi-tech performing arts theater to include; multiple practice rooms, production facilities, audio recording studio, interactive media stations and a reception area.
Read more about the Sampson Family Gift.