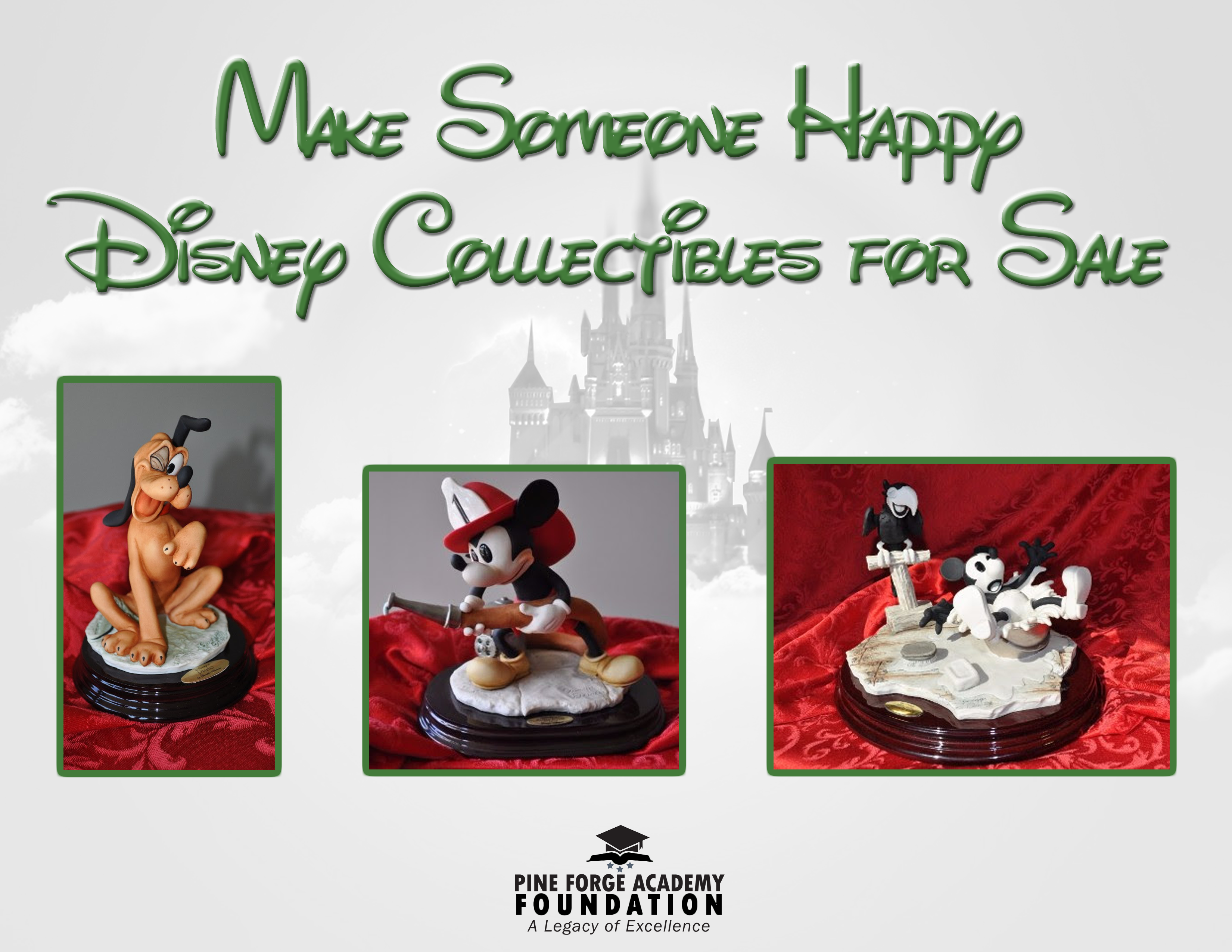 Click image above to bid on or purchase rare Disney Collectibles on ebay.
100% of the auction proceeds or sales will benefit the PFA Foundation Scholarship Fund. 

Disney Collection Donors
Harvey and Peg Koeppel enjoyed their friendship with Dr. Melodie Mayberry-Stewart, Chair and CEO of the Foundation, over the years.  In 2012, because of their admiration of and respect for her, the Harvey Koeppel Family donated their life's work and collection of rare Disney Art and Memorabilia to the Pine Forge Academy Foundation.  Like others, the Koeppel family became supportive of the Dr. Mayberry-Stewart's ardent passion to empower minority students through education.    
Throughout his lifetime, Harvel Koeppel has collected Disney art, memorabilia, jewelry and other items.  Over decades, he has amassed a collection of more than 3,000 Disney exceptional pieces of porcelain, pewter, and brass, limited edition watches and alarm clocks; signed limited edition prints, drawings, paintings and cells; and rare coins, pins, stamps, and key chains.
Since that historic donation in 2012, PFAF has hosted auctions in Cleveland, Ohio at the direction of Dr. Mayberry-Stewart, and in Pine Forge, PA that raised funds to benefit PFA students.  In addition, the general public, friends, and supporters continue to have the unique opportunity to bid and buy rare pieces on Ebay.  All auction and sale proceeds are tax deductible and enable African American students, who might not otherwise have the opportunity, to receive an excellent education at PFA.  
"We are thrilled and grateful to be receiving this major gift from Peg and Havey Koeppel,  Their Disney collection is remarkable in its distinction and quality," commented Mayberry-Stewart.
Learn more about the Koeppel Family and the Foundation Auction.