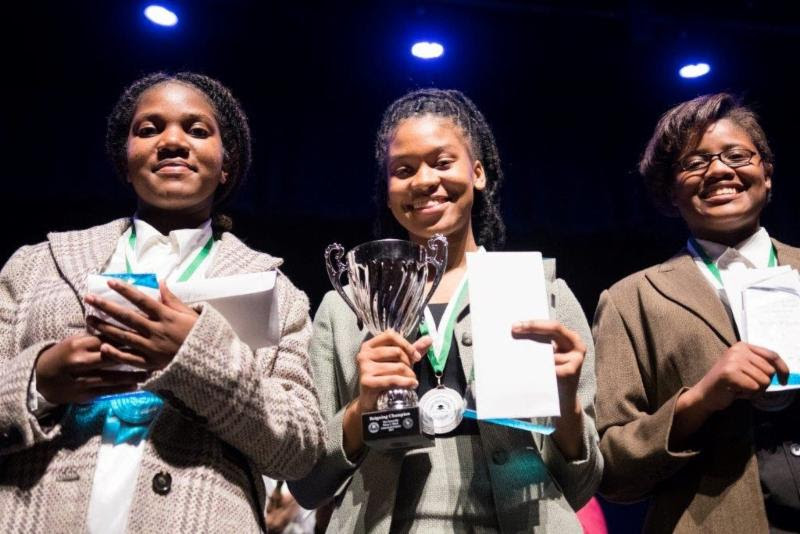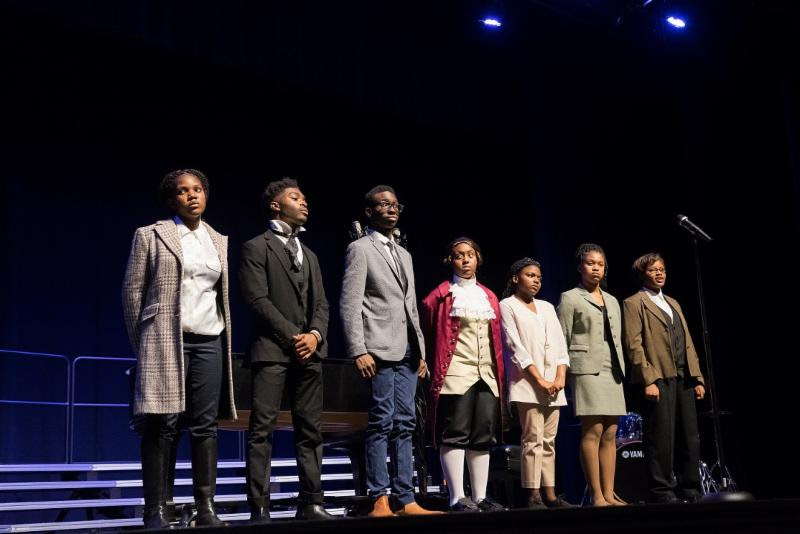 Sierra Smith, center, won first place; Makayla Roberts, left, won second place and Jonalea Goulding right,  placed third.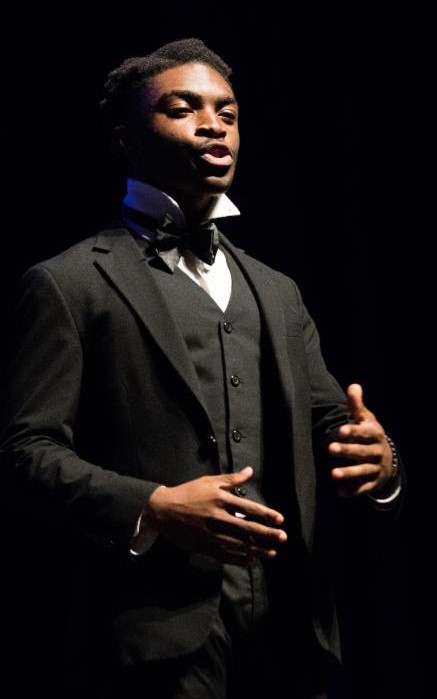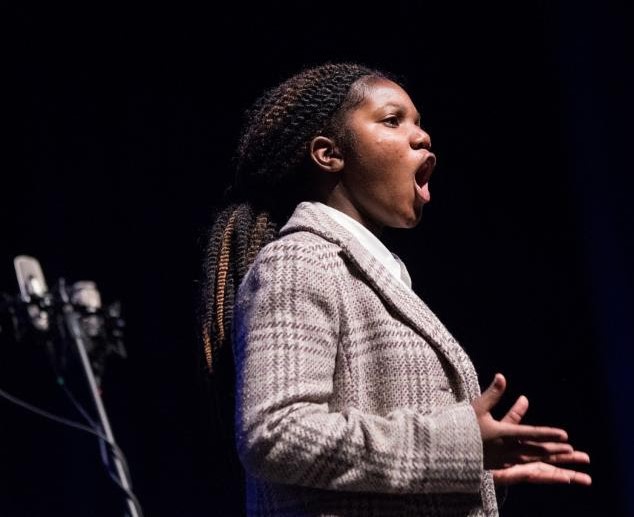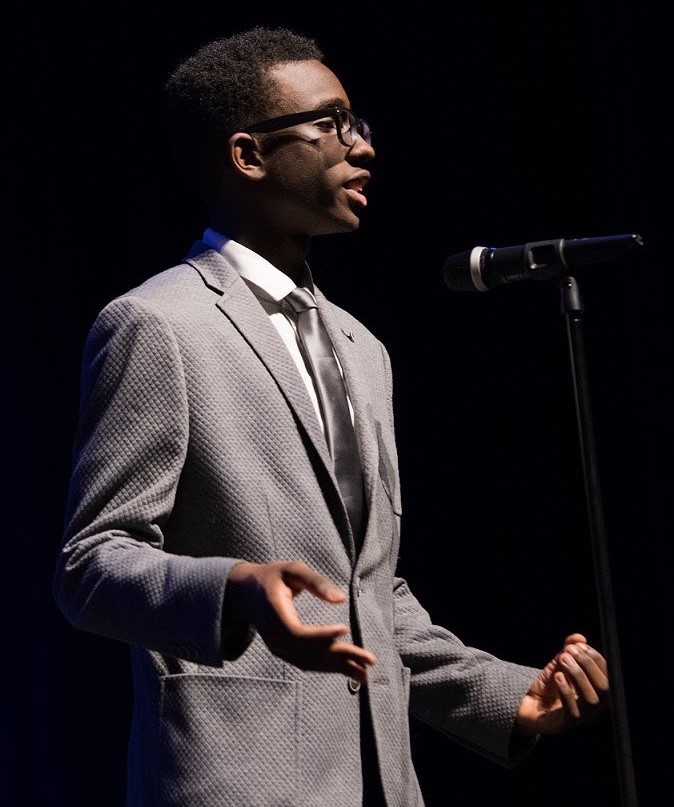 Jonathan Williamson                                                                                                                     Clifford Fields
About The Contest
The Barry Black Oratorical Contest was took place during Parents' Weekend on Saturday, April 8, 2017 at the Hill School in Pottstown, Pennsylvania.  Its purpose is to encourage Pine Forge Academy students to understand, experience, and share their personal interpretation and thoughts about world famous orators.   The program also gives them meaningful experiences to develop deeper knowledge and appreciation for the art of language. The Barry Black Oratory Contest develops important leadership qualities and gives students unique opportunities to research and learn about America's history and how Black history continues to shape America's culture.
We wish to provide a platform for high school students that will enhance their public speaking skills, promote self-confidence, educational enrichment and facilitate character building.
Each year Pine Forge Academy and the Pine Forge Academy Foundation will co-host the Barry Black Oratorical Contest.  All Pine Forge Academy high school students are welcome to participate.   Our purpose is for students to experience the same transforming  power of the art of language that Chaplain Black experienced as a young man.  
2017 Contestants
Makya  Genevia-Ann Davis, is a senior at Pine Forge Academy.  She currently holds the offices of President of the National Honor Society as well as Senior Class President.  She is a passionate swimmer and swims competitively for a local swim team and is a certified lifeguard for the Allegheny East Conference.    Makya is a member of the Pine Forge Academy choir and enjoys traveling and singing at a variety of venues with the organization.   Makya has been accepted to Temple University and has been honored with Temple's Provosts Academic Scholarship for each academic year.  She prays that God will continue to direct her steps as she pursues her career aspiration of becoming a Pediatric Anesthesiologist.    Makya desires that her interactions with others will encourage them to ask her about Christ.
Clifford Fields was born and raised in Maryland as the youngest of four children.  He is a three-year senior at Pine Forge Academy and will be attending Oakwood University in the fall of 2017.  He is interested in politics, history, and cooking along with singing and soccer. When he grows up, he would like to pursue a career in politics and run for public office.
Sh'Dai Forrester is currently a freshman at Pine Forge Academy in Pine Forge, Pennsylvania. She was born on January 25, 2002, in Hartford, Connecticut.  Sh'Dai is the fifth child in her family and loves to sing. Interestingly, she has been singing since the age of three. In her spare time, she loves to draw and read.  Her favorite subjects are math and science.  Sh'Dai is a member of the Charity Seventh-Day Adventist Church in East Hartford, Connecticut.  When she grows up, she wants to be a Pediatrician.  Her favorite Bible text is Psalm 100, "Make a joyful noise unto the Lord all ye lands…."  Sh'Dai lives her life to be a servant of God and friend to man.
Jonelea Goulding is 15 years old and is the youngest of 4 siblings. JoJo as she is affectionately called is a sophomore at Pine Forge Academy and Parliamentarian of her class, 2019. She is originally from New Jersey but she lived in Mexico for two years.  She is very passionate about her schoolwork and is always ready to help others when help is needed.   She is hard working and never settles for mediocrity.  She aspires to become a Cardiologist and a better speaker.
Mikayla Roberts is from Maryland and is a junior at Pine Forge Academy.   She is a member of the Pine Forge Academy choir and serves as a Junior Deaconess at Pine Forge SDA Church.  Mikayla's hobbies are reading and writing.  Most importantly she loves "her" God and enjoys sharing His word with others.  Mikayla's goal is to obtain a PhD in Mathematics and become a teacher.  Her motto is, "Nothing is IMPOSSIBLE, for the word itself says I'M-POSSIBLE!!"
Sierra Tamirin Smith is a seventeen year old, junior at Pine Forge Academy.  Sierra is an entrepreneur and CEO of Bundles of Blessings Hair Inc.  She is an honor roll student and serves as USM Vice President and class Chaplain.  Sierra grew up at the Community Praise SDA Church in Alexandria, Virginia where she first began her love and recitation of scripture.  At the age of four, she recited Isaiah 53 along with her sister in its entirety from memory.  She further shared God's love through ministry by preaching for Children's Day, under the leadership of Pastor Henry Wright, Sr.   Her favorite memory verse is Psalms 116:1-2, "I love the Lord because He hath heard my voice and my supplications, He listens whenever I call so I will depend on Him as long as I live."
Jonathan Williamson hails from Alabama.  He is a junior (Class of 2018) and attends Pine Forge Academy in Pine Forge, Pennsylvania. Jonathan's involvement extends beyond the walls of the classroom because of his versatile abilities: athlete, National Honor Society member, Choir member, Recruitment team member, and Office Manager for Handy Hall.  He is also an avid musician.  He plays the drums and bass guitar for church services and events often.  As a Pathfinder from an early age, Jonathan developed a love for the drums thus, becoming a drum corps member.  Jonathan has a strong passion for learning and aspires to be the greatest in life.
Barry Black Oratorical Committee
Dr. Larita J. Alford, Committee Chair
Residence Coach
Associate Professor of English
Retired community college administrator
Dr. Edward Pelote, Co-Chair
PFA Foundation President/COO
Cynthia Poole
PFA Foundation Board Member
Marqwan Sirls
Resident Coach
English Instructor
Vanessa Wilson
Residence Coach
History Department Chair and Instructor
Oratorical Speech Presentations
Title of Speech: I am an American
Original Speech by: Harold Ickes (Secretary of the Interior under Roosevelt)
Occasion of Speech: "I am an American" Day in Central Park
Date of Original Speech: May 18, 1941
Title of Speech: American Slavery
Original Speech by: Frederick Douglass
Occasion of Speech:
Date of Original Speech: July 4, 1852
Title of Speech: Women Rights
Original Speech by: Hillary Rodham Clinton
Occasion of Speech: Remarks to the U.N. 4th World Conference on Women
Date of Original Speech:  September 5, 1995 Beijing, China
Title of Speech: Barack Obama Acceptance Speech
Original Speech by: Barack Obama
Occasion of  Speech: Democratic Convention 2008
Date of Original Speech: Aug 28, 2008
Title of Speech: A More Perfect Union
Original Speech by: Barack Obama
Occasion of  Speech: Campaign Trail in Philadelphia
Date of Original Speech: March 18, 2008